Doorstep Diagnosis, Treatment, Consultation, Awareness and  Education

Why Mobile Medical Van
Mobile Health Services reaching population living in geographically remote areas and those communities cut-off from mainstream services where even the first level medical facilities are not reachable. Our Mobile Medical Units plays a significant role to enable reaching such a marginalized population.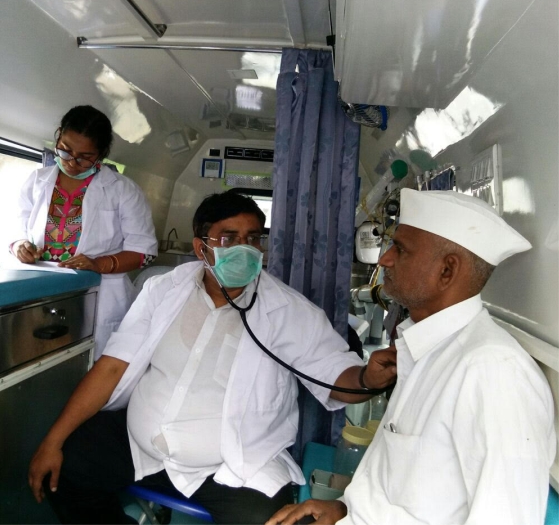 Operational Instrumentals
Well maintain fully equipped medical van with eminent medicine and other consumables.
Head Office Back-Up
24/7 Support
Panellist Doctors
Radiologist
MD General Physician
Dentist
M.D. Pathologist
Team
Doctor Preferably Female
Social Worker / mobilizer
Technician (Optional)
Nurse/ Assistant
Driver
Execution Process
Social Worker Activity
Frequent Awareness Program in Community on Health & Hygiene. Counselling & Health Education Program in School. Meetings with Govt. Bodies ( THO / DHO ) , Sarpanch / Gramsevak , Asha Workers.
Monitoring & Record Keeping
Centralises ERP System Mobile App
Real Time Data Punching by Team
Report Generation by Admin Team
Client can also have an Access to get the Required Reports
Maintaining hard copy of Patient Register.
Medicine Inventory
Track & Audit
Mobile Van with GPS & Surveillance System
Daily Reporting though App
Site wise Whats APP Gorups
Surprise Visits by Manager or Supervisor
Community Meeting for Feedback.

Who We Are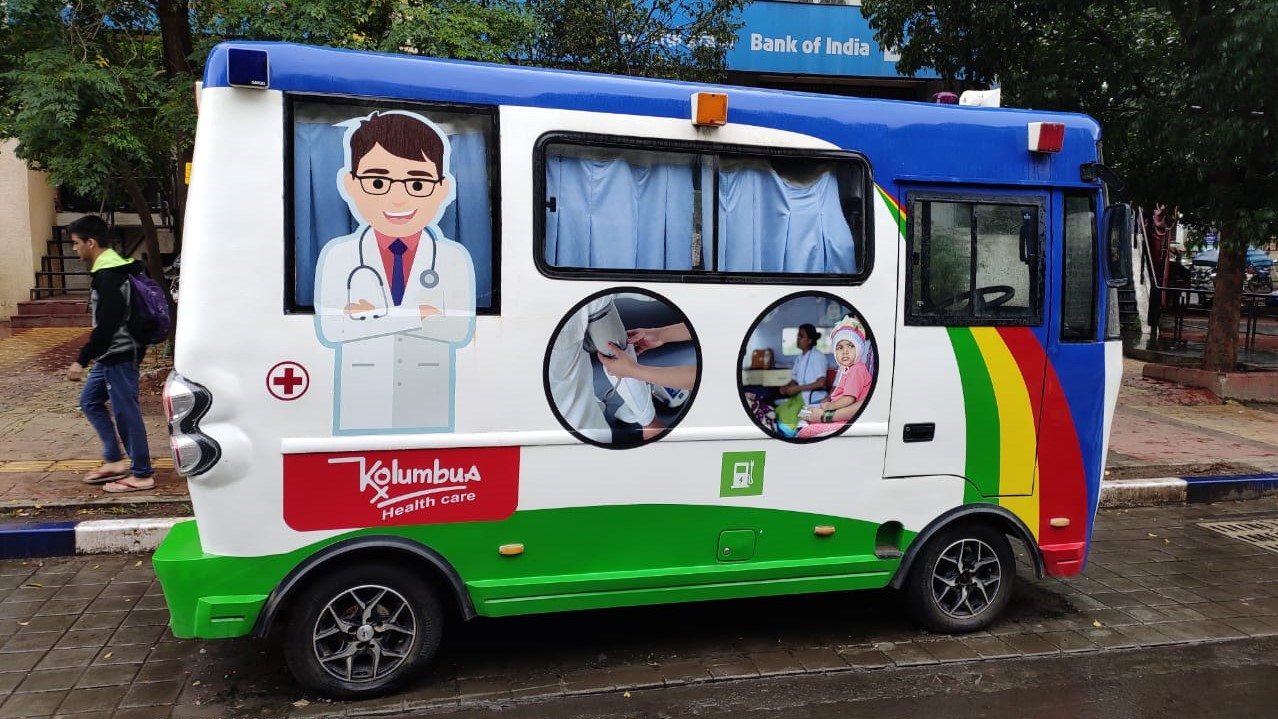 "Kolumbus", Foundation came in to being in the year 1980. The brain child of Dr. Vijay Khandekar, the organization was setup with idea of value for human life, the outcome of which is our fleet of well-equipped Mobile medical VANs Ambulances & diagnostic vans.
We always prefer On Wheel Solutions with the aim of improving access to medical services in the remote areas as well as raising the level of awareness among the community towards healthy and hygienic living. Since its inception, Kolumbus has made significant contribution in Health Care Sector, Medical Events, Capacity Building, Diagnostic Centres, Charity Events, etc. Round the clock our experts work to bring smile to those in pain. Our well experience professionals of respective services made Kolumbus best option for better life.
Kolumbus Health Care specializing implementing CSR Health Initiatives also offers numerous health services  for the individual, group, corporate body or government in the form of health diagnostic and medical assistant services all under one roof.
What People Says About Us
75 years old patient Smt. Babai Shrirang Jadhav suffering from Hypertension and is on regular treatment. Patient having complaints of generalized weakness, giddiness, anorexia, unable to walk due to weakness, loss of appetite, decreasing weight, difficulty to deglutition.
Due to financial constraints she could not avail quality health services from private hospitals or institutes. Ever since the van was introduced in her village, the patient has never missed a visit. Her health has improved significantly due to regular free of cost diagnosis, medication and counselling provided by the van Doctor and her team. She thanks the MMU team for their effort.
20 year patient Ms. Akansha Sunil Raut having history of bleeding piles. Due to severe abdominal pain patient was not able to come to Mobile Clinic. Patient having burning pain at anal region, abdominal pain, bleeding, weakness, constipation and bleeding piles.
Our panel doctor at MMV monitored her condition for certain period of treatment and now patient got relief from her ailment significantly. Patient is very happy that she got treatment free of cost through MMV.
Better Health Care is Our Mission
24/7 service. Appointments are Available.
020- 25532630 / 25531146
+91 9850904858 /
+91 9545992200
kolumbushealthcare@gmail.com
1206/ 16 A Shivaji Nagar, Shirole Road, Opp Sambhaji Park, Pune- 411004, Maharashtra, (India)